The Three Pyramids and the Sphinx are civilization and greatness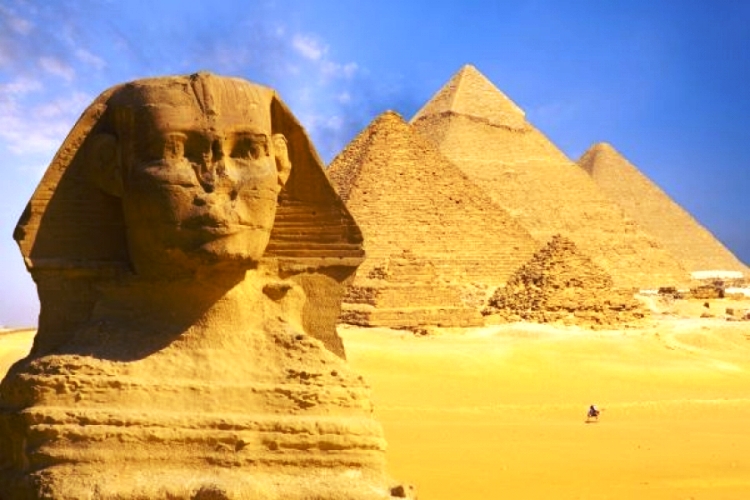 The three pyramids and the sphinx, the civilization of the ancient Egyptians who were characterized by their physical strength and intellectual superiority, despite their presence in an era that has nothing but self-development and skills acquired from the surrounding environment, where our great pharaohs could build the three pyramids and sphinx because they believed that the soul immortal no matter how many years And times will inevitably come time and will revive the spirit again for life and they designed these pyramids to be the graves of them at the time of their death, has incited the ancient Egyptians to choose a privileged location to build the pyramids
.
Where the civilization of the ancient Egyptians are the mother of the civilizations of the world and the wonders of the seven world, not only built the pyramids as huge graves only, but mastered in its design from the inside where Zenoha Pharaonic drawings and the placement of some statues made of gold and the establishment of special corridors within the pyramids, allowing easy mobility and we will know today The secrets of the three pyramids and how to build them
.
What is the point behind the construction of the Three Pyramids and the Sphinx
?
The ancient Pharaohs believed that the soul can immortality even after death. The soul can return once again after exiting the body. So the belief that I have no basis of health built by the ancient pharaohs the three pyramids as tombs for them after their death and they were keen to bury their own things, gold and valuable property
.
And not to bury the dead in the tombs of the three pyramids only after mummification in order to preserve their bodies as they are so that they remain so when their spirit returns to their bodies based on what they hold ancient Pharaohs. They began the construction of the three pyramids and sphinxes and added some aesthetic touches inside the three pyramids in terms of drawings on the walls of the pyramids from the inside and adorned with gold and various gold statues
.
The development of architectural sense in the ancient Egyptians: The pharaohs began to build the flat incense as tombs for the preservation of their bodies after death, and the evolution of the forms of their graves until the pharaohs began to build huge temples and Zinha gilded statues and columns and high morals. When were the Three Pyramids and the Sphinx built? The three pyramids and the Sphinx in Giza are currently in the Egyptian cemetery. These pyramids were built during the reign of King Khufu and contain three very large pyramids. They were built in 2630 BC. The three pyramids are characterized by their height and size and the size of the stones that were built in the pyramids The three are out. The three pyramids of the Great Pyramid are the pyramid of Khufu, King Khufu, the son of King Sinferu. King Khufu is considered ruler from 2589 to 2566 BC, and the Middle Pyramid is considered the tomb of King Khafra, the son of King Khufu. It is also one of the largest statues in the world in terms of length and size. It is very large and has a height of 20 meters and the width of the Sphinx is 70 meters. It is one of the most impressive statues of the world in terms of height and size. That some Egyptian and foreign archaeologists are puzzled by this huge design in terms of shape and size of this statue.